Movie/TV News
Fortnite Shows Batman's Leadership Skills Better Than Any Other Comic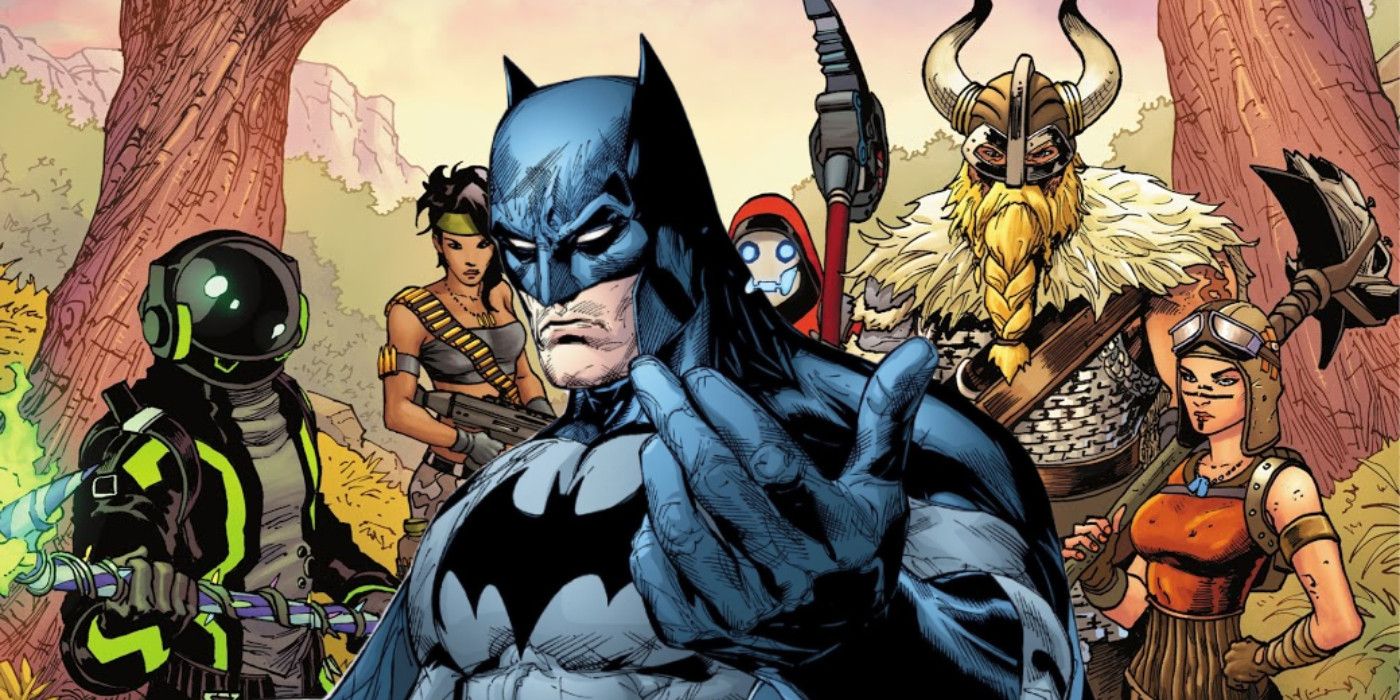 In Batman/Fortnite: Zero Point #4, Batman is able to achieve in one day what a group of eight people couldn't do over the span of several years.
Warning! Spoilers for Batman/Fortnite: Zero Point #4 ahead!
Batman's leadership skills are ubiquitous to not just him and his escapades in Gotham but all of DC. He's somehow managed to keep the egotistical members of the Justice League in line for quite some time, which is no small feat, but the Fortnite crossover just found a way to exemplify this particular trait of Batman's far more effectively than any other comic.
The Fornite world presents a whole slew of difficult challenges for those who are trapped within. The yet-to-be-identified masterminds of the whole mysterious operation can selectively wipe the memories of their prisoners while stripping them of their ability to speak. But even those who are able to escape the particular portion of this prison that renders these crucial abilities useless, the real test is finding a way to escape the actual world. And Batman has not only just broken free from the loop, but he has already made massive strides towards leading his team to freedom in Batman/Fortnite: Zero Point #4 by Donald Mustard, Christos Gage, Reilly Brown, Nelson DeCastro, John Kalisz and AndWorld Design.
Continue scrolling to keep reading
Click the button below to start this article in quick view.
Related: Batman/Fortnite Creators Break Down The Blockbuster Comic Crossover
Upon freeing himself from the loop, Batman meets eight other people, including Catwoman and Deathstroke, who did so before him but have yet to get any further. All of them have been stuck in this limbo-like state for varying periods of time, the longest of which goes to Raider, who's been here for a whopping four years. What's so striking is that, before Batman, even with their collective minds, they couldn't find a way out. Then Batman comes strutting in, takes the lead with little protest and is able to solve the first piece of the puzzle in what appears to be only a day.
It all starts when Batman learns that there are hatches located in various places around this world and that no one can break through them by force. He theorizes, based on various artifacts his team finds (of course, at his direction), that whoever is in control of their fate must also enter this world, as they wouldn't voluntarily leave these objects behind and risk them being found. Therefore, their abductors must have the ability to open the hatches themselves from the inside, because who would voluntarily lock themselves in without any means of getting out? Using special devices he somehow has on his person, Batman has the members of his team store energy readings emitting from various places and replicate them on the latches. And one of them works.
The unique situation that the Fortnite world presents to those trapped inside has already allowed, or even forced, certain characters to interact in ways they would have normally never done otherwise. For example, the fact that Catwoman and Batman have been able to connect on such a deep level despite not having the ability to speak and without their memories is an incredible way to showcase their feelings for each other. This world has put Batman in a position where he's able to not only lead a group of people who had undoubtedly already established a hierarchy and workable system, but figure out a problem that this group of eight people, some of whom had been working together for years, couldn't do collectively before him. Batman has found himself in a fair amount of scenarios over the decades, but it's safe to say that none of them allowed him to generate these types of incredible results in such a short time frame.
Next: How Snyder's Second Choice Batman Would Have Changed The DCEU Dark Knight
90 Day Fiancé: Big Ed Confronts Rose on Alleged Relationship With a Woman
Share this news on your Fb,Twitter and Whatsapp
NY Press News:Latest News Headlines
NY Press News||Health||New York||USA News||Technology||World News