UK
How has Norwich responded to the arrival of stranded migrants?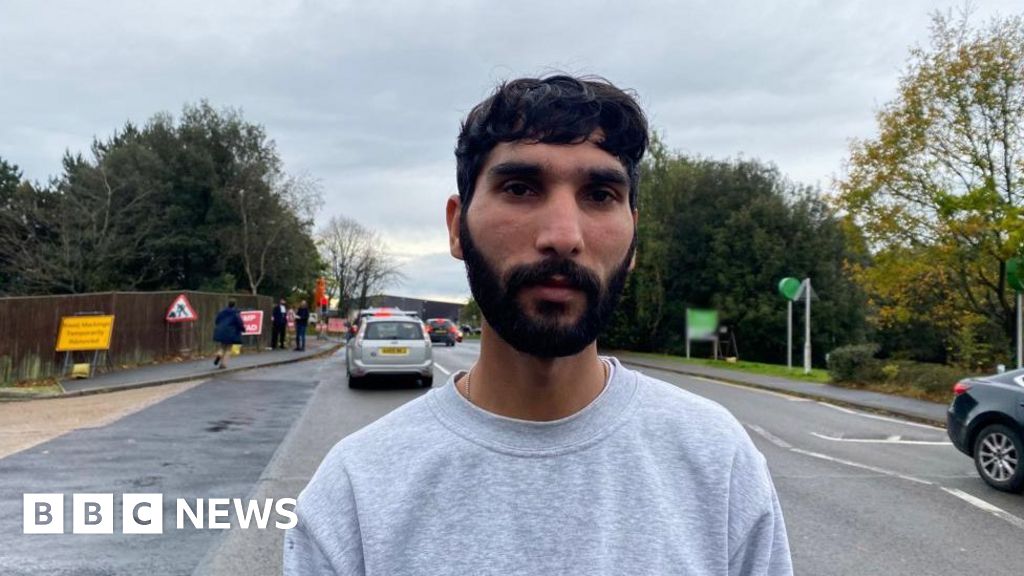 A group of migrants mistakenly taken from Kent and left stranded in central London have been brought to the Norfolk city of Norwich. How has Norwich, which is part of the City of Sanctuary UK scheme, responded?
It is understood 11 migrants, thought to be from Afghanistan, Syria and Iraq, are currently being housed in a Norwich hotel.
The Home Office says the group originally told officials they had a place to stay.
'The situation was not good'
Hassibullah, a 24-year-old student from Afghanistan, was one of the 11 taken from Kent to London.
"I was with other people in Dover for 25 days then went to Victoria Station in London. They told us [we were going to] a hotel there," he says.
"I don't understand but the driver of the bus told us to 'go out'."
He says he did not know what he was supposed to do when he arrived in London.
He was told "to find his way" by himself, he says.
He tells how the police arrived and closed the station before two taxi drivers arrived and collected them and told them they would be taken to another location.
That location was Norwich.
He came to the UK on a six-metre (18ft) boat with about 80 or 90 other people on a journey that took about seven hours.
He fled Afghanistan, he says, because of the Taliban and his family borrowed €3,000 to pay people smugglers to get him to the UK.
"The situation was not good," he says.
Asked what he expects to happen now, Hassibullah says: "I don't know."
"I want to stay here and I do not want to go back to Afghanistan," he adds. "I want [from] the government a little attention for us because we have more problems in Afghanistan."
'We are a close-knit estate'
Rachel Anderson, 51, lives close to the hotel being used to house the migrants.
"It is a surprise to hear of it," Ms Anderson says. "I would have liked for there to have been more communication and to have been told about this.
"I don't know who these people are so I don't know what else it involves – only the fact that we are not told enough.
"This is an estate community and it is very close to the hotel.
"I don't want to be judgemental about the people coming in but we have had situations before because we are close-knit estate – and, if you are going to put people in a hotel near a close-knit estate, who knows what could happen?"
'They've got to be housed somewhere'
Paul Skinner, 50, owns a local business.
"My view is they've got to be housed somewhere and they've been living in atrocious conditions, where they have come from," he says.
"Obviously I do feel concerned about the local people as well that are also having their own problems with housing. And you've got a clash of interests there, with views on both sides, but at the end of the day it is an awful situation.
"It is a difficult situation."
At the scene: Alex Dunlop, BBC East
I am parked near a hotel in Norwich where earlier I saw about a dozen migrants standing outside in small groups chatting and/or having a smoke.
I approached three men who said they were from Syria.
I asked them if they knew about the 11 migrants who had come to Norwich from London.
One of the Syrians indicated that he knew about the 11 and that they were inside the same hotel. However, his English was limited, so it was hard to be sure.
About 10 minutes after my arrival, two members of hotel security staff approached me. Shortly afterwards, they asked all hotel guests who were outside, even those within the walled hotel courtyard, to go inside
When I asked security why, I was told it was for a 'roll call'.
Every migrant I subsequently approached was quickly asked to go indoors. Minutes later, a couple who tried to come out, were advised by a doorman to stay inside.
Soon after, I was asked by security staff – who were always very courteous – to leave.
I asked to talk to the hotel manager, but was advised that he was not permitted to speak to me.
They suggested I direct my questions to the Home Office.
'They shouldn't be over here'
"They shouldn't be over here. Simple as," says Philip Warhurst, who is retired.
"My boy, who's 31 and working, he can't get a house. No way. But they can just swan in and get one and that's it.
"He's paying all his dues and demands but they don't."
'It seems a bit of a mess really'
Tom Sadd, 28, runs a barbers and says he has had a number of migrant customers.
"It seems a bit of a mess really," he says. "They've just dumped them in the hotel."
He says there have been occasions when migrants have come in for haircuts without enough money to pay.
As a result, he is now insisting on payment upfront by card.
"For them [the migrants] it must be confusing never mind for us English people and the businesses.
"They've just been dumped in Norwich, haven't got a clue where they are, and they are just wandering the streets, bored and trying to find stuff to do.
"I would like it sorting out, get them somewhere official and not in hotels."
Stephen Evans, chief executive of Norwich City Council, said on Friday he was unaware the group was heading to Norwich.
"We haven't been told," he says. "I checked back with colleagues at City Hall and they haven't been told. So we don't know who they are, we don't know where they've gone to in the city and I think that is part of the problem here.
"Councils are asking for earlier engagement with the Home Office and for us to be consulted. Local government and central government work at their best when they work together."
A spokesperson for the Home Office said: "The welfare of those in our care is of the utmost importance and asylum seekers are only released from Manston when we have assurances that they have accommodation to go to. Any suggestion otherwise is wrong.
"We worked at pace to find accommodation for the individuals as soon as we were notified, and they are now being supported."
Related Internet Links
The BBC is not responsible for the content of external sites.
Share this news on your Fb,Twitter and Whatsapp
NY Press News:Latest News Headlines
NY Press News||Health||New York||USA News||Technology||World News